Down Syndrome Awareness Month is coming to an end tomorrow!
WOW, October just whizzed on by!
I'm so excited that I was able to blog each day, and I'm working on my final post tomorrow. My final post is a post I have been working on a for several days, one that has required extra thought...and

prayer.
There were 170 other people blogging this month about 31 for 21, if you haven't had a chance click on the lin

k

below and drop by and visit a few other families who have a loved one with Ds :)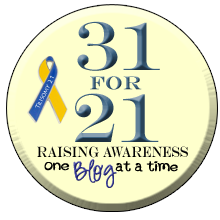 Grab This Button