JONATHAN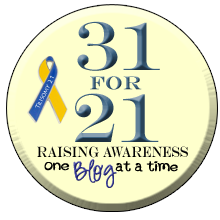 Down syndrome is medically known as Trisomy 21. Trisomy 21 is for the 3 copies of the 21st chromosome that individuals with Down syndrome have.

There are 31 days in the month of Oct.


The blog challenge is to blog for 31 days for (T)21. Blog every day in the month of Oct in honor of National Down Syndrome Awareness Month.
So, come along and see what life is like with our family and our child who was given a little something "extra"! On our side bar this month we'll have the 31 for 21 button. You can click on the button and throughout the month see other families who also have someone with Ds in their lives. There is so much to learn from these families, and we all have so much to share!