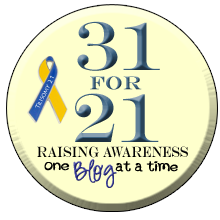 Grab This Button
This year I'll be blogging ~again~ during the month of October about Down Syndrome.....
This is Down Syndrome Awareness Month.....
What does 31 for 21 mean....
There are 31 days in October and 21 represents Trisomy21 (the medical term for Ds).
If, you click on the button above or in the sidebar you'll be linked to others taking the 31 for 21 challenge.